A. How do I choose the right powder coating equipment?
When starting a powder coating business, you should determine what kind of product you will be producing now, or in the future. When doing so, make sure you are thoroughly educated on the materials, shapes and processes required for production. These three factors are key in choosing the right equipment and determining if there is a need for pre-treatment equipment.
Users should also be well-versed in the powder spraying production plan for each product, as this will determine which type of powder coating booth and curing oven heat source is needed.
Finally, users should be aware of their investment budget when selecting the origin of the powder spraying equipment, brand, service and repair parts.
B. How do I go about getting after sales service and wearing parts?
All of our powder spraying equipment is covered under a one year warranty. If there are any quality problems within that period, we will send free replacement parts, as well as pay the costs of international express delivery (which is generally 3 to 5 days). Spare parts can be purchased from a local dealer, however, if you are in a market location without a Colo dealer, users can buy from us directly. Delivery is fast and easy.
C. Payment and delivery methods
For small orders, payments can be made via PayPal, Western Union or a bank transfer. For large orders, a bank transfer is the only accepted form of payment.
We prepare to ship products within 2 days, then actual delivery generally takes about 3-5 days, though it may take up to a week after we have received payment. Items are generally delivered by FedEx or DHL.
D. Do I buy a professional powder coating gun, or a hobby powder gun?
Professional powder coating guns, though expensive, ensure the final quality of your painting, save painting time, and save powder. By doing so, overall cost is decreased, generating more profits and benefits.
Though a hobby powder fun looks simple and is less expensive, the final result quality is not as high, and users generally end up throwing the hobby powder gun away when it begins to not perform, thus turning to a professional powder gun.
If you are still not sure, feel free to contact our sales team, who will help you choose the right powder coating gun for your needs.
E. How do I choose the correct powder coating gun when there are so many Colo spray gun models to choose from?
The complexity of the workpiece plays a part. Take a cylinder for example.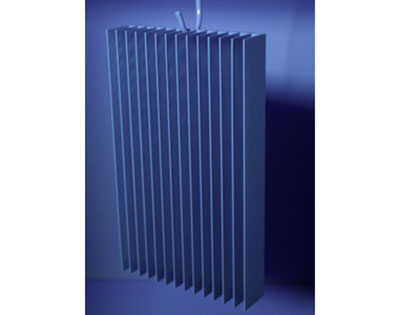 The surface of the cylinder is determined by the close and deep slot fin heat. Between two adjacent fins on the bottom of the slit, due to the strong electrostatic shielding effect and special air flow caused by the shape, it is difficult for powder to remain adhered to the surface. With a high quality performance, n electrostatic spray machine lightly sprays the surface, allowing the powder to evenly adhere to the entire slit bottom surface. In this instance, we highly recommend the high performance CL-161S powder coating system.
For a different product, such as car rims, we recommend the medium performance Colo-610 powder coating machine.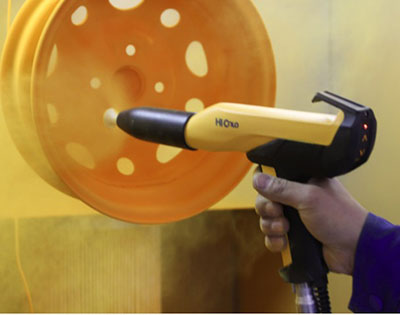 We would like the customer to please note that a more expensive product does not necessarily mean a better product performance. Each model is designed for different application needs.
F. What is the distance between the powder spray gun and the workpiece? When there is a static voltage determined by the distance between the electric field, the strength is inversely proportional to the pole. When the distance between the spray gun and work piece is too short, it will create a discharge. If the distance is too great, the powder will not lessen. If the static voltage control is within 60 to 90kV, and an electrostatic spraying distance of 250-350mm, the machine performance is at its optimal level.
G. What is the powder spray booth's application? The powder booth is the primary place where powder spraying takes place. Its main role tis to prevent the powder coating from polluting the environment and ensure the quality of the spraying, all while recycling the powder. To prevent the accumulation of an electrostatic charge, the powder booth needs full grounding.