Portable Powder Coating Machine COLO-800DT-H
Features
1. This small powder coating machine is designed with a 10 lbs powder hopper.
2. The hopper capacity of the powder coating system is very practical for small to medium powder coating production.
3. Produces smooth, homogeneous powder cloud that leaves a uniform paint finish on the work part.
4. 100kV high voltage powder spray gun ensures great efficiency and stable performance.
5. Intelligent controller provides the flexibility for powder coating different shapes of work parts.
Details
Controller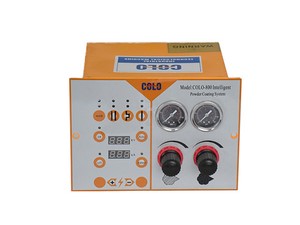 0-100kV adjustable voltage can be adjusted at any time when powder coating different objects.
The change of voltage and amperage is clearly reflected in the LED screen.
The air pump can be easily adjusted when , atomizing and rinsing, making it suitable for powder coating different objects.
3 one-touch buttons stand for 3 pre-set application programs which are convenient to switch when coating different shapes of work parts:
Flat coating program for flat shape workpieces
Corner coating program for complex shape parts or deep corners
Recoating program for spraying parts which have been already coated
Spray Gun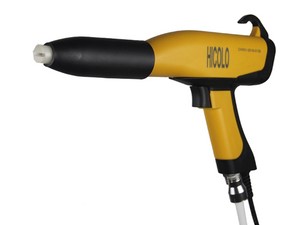 Built-in 100kv cascade maximizes the electrostatic charging, offering the highest transfer efficiency.
Made of lightweight materials, the portable powder coating machine features ergonomic design, greatly decreasing operator's fatigue.
Robust powder spray gun design makes it more durable and safer to operate.
Spray Nozzles
Supplied with full sizes of nozzle assortments, prepare for spraying various work parts.
Round and flat nozzles are suitable for most common work parts, nozzles with an extension for inside powder coating of narrow areas.
Nozzles are made of non-stick materials, preventing powder accumulations. This results in a high quality powder output.
Powder Pump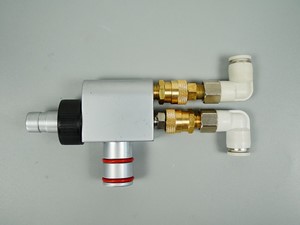 Delivers more powders to spray guns using less compressed air, reduces the wear of the injector and spray gun, achieving efficient powder utilization.
A plug-in powder injector that can be detached without any tools, allowing fast cleaning and maintenance.
Powder Hopper
Size: D20*H30 cm; capacity: 10 lbs powders
Fluidizes powder completely without powder accumulation and absorbed moisture, which improves powder coating quality.
Avoids overflow, and hardly get contaminated as it is not exposed outside. Ideal for clean and uniform powder coating.
Stainless steel powder hopper is durable and quick for clean.
Powder Hose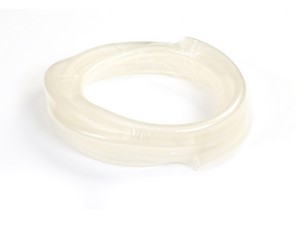 Made of high-quality raw materials, features durable, abrasion-resistant and easy-cleaning.
Provides a constant and uniform powder flow for powder coating applications.
This Colo-800DT-H Portable Powder Coating Machine COLO-800DT-H suits spraying for the automotive wheel hub. This powder system is suitable for the users who just start up their business or who do small-scale powder coating, but with very high coating quality requirements. All the parameters are controlled by the computer intelligently and the control programs for spraying are selected through touching buttons, like for plate work piece, corner work piece, re-spraying work piece, etc.
The electrostatic high voltage and current are set automatically at optimum value, which is the required parameter for realizing maximum powder utilization on spraying the work piece in various shapes and metal powder. This product also breaks through the Faraday Effect that appears in the operation of corona electrostatic powder coating machine to maximum extent.
As the requirements on powder output and atomization strength are changeable for different work pieces and powder, our product is prepared with three sets of pressure regulating valves to adjust these two parameters. Configured with stainless steel powder hopper in size of 20×40cm or 20×30cm, our product is adaptable for small scale of spraying with high requirement.
Related Names
Small Size Powder Coating Device Manufacturer | Electrostatic Sprayer for Testing | Industrial Spraying Device