Plastic Powder Coating Booth
Quick and clean color change, clean working environment.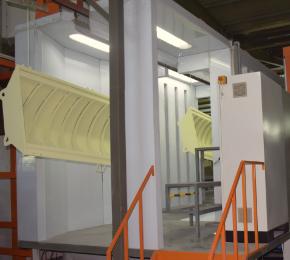 1. Plastic powder coating booth
- High-strength double plastic booth is designed to minimize powder settling on the booth wall surface, for quick cleaning.
- The pneumatic cleaning system at the booth bottom prevents the accumulation of powder and makes cleaning faster.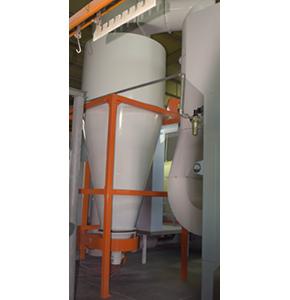 2. Mono-Big Cyclone
-Mono cyclone makes excellent color change and powder recovery.
- The powder can be massively transferred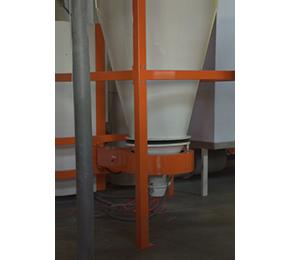 3. Powder Sieving Machine
- The sieving machine shows highly effective powder recovery capacity and convenient workability, as a cyclone is integrated in it.
- It adopts the pinch valve (Germany) that is a powder transferring device of high efficiency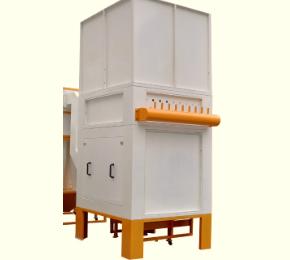 4. Dust Collector
- It improves the ability of dust collection and prolongs lifespan of filter by preventing powder adsorption with the high speed rotation device in the filter
- Fast cleaning is resulted from filters made of PTEF material.
- It uses fans of low noise and low vibration with long lifespan
Comparing with the metal spray booth, the PVC powder coating booth has obvious technical advantages as follows:
1. In the high-voltage electrostatic field, inner wall of PVC booth brings the charge of the same polarity with the powder particles, resulting in a rebound effect. In hence, more powder can gather to the workpiece, which effectively improve the spraying efficiency.
2. Fewer powders are adsorbed to the inner wall, which enables high powder utilization rate to save powder.
3. Compressed air gun can easily blow off the powder that has attached to the booth wall, which is helpful to rapid cleaning.
4. High efficiency bottom exhaust device matches with the large-diameter double-whirlwind powder separator and terminal filter, minimizing powder accumulation and achieving most environmental-friendly emission.
5. According to the production requirements, you can choose appropriate automatic powder coating control system to improve spraying and save time and energy.
6. Variable frequency stepless speed regulation reciprocator can carry automatic spray gun perfectly, and complete the spraying task successfully.
7. Optional automatic powder recycling system ensures maximum utilization and minimum waste. The recycled powder will return to the powder hopper after being filtered.
Video